SOLD OUT – NEWCASTLE 'Once Upon A Time' themed Family Rave 28th April – DJ Mudfoot Blaps PLUS Special Guest Hidden Agenda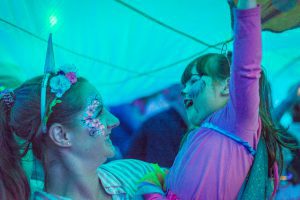 ***OVER 60% SOLD***
Big Fish Little Fish are back in Newcastle with a 'Once Upon A Time' themed event 28th April at Northumbria Students Union! Join our award winning, critically acclaimed family fun event for the post-rave generation of parents – helping them to be responsibly irresponsible since 2013. Our raves are designed to be as much fun for the adults as they are the children, and are social, daft, anarchic and creative spaces for all the family to enjoy.
Our North East resident DJ Mudfoot Blaps (truoldskool/fantazia) will be behind the decks PLUS we have a SPECIAL GUEST DJ Hidden Agenda (Metalheadz/creative source)! On the multi-sensory dancefloor there will be glitter cannons, balloons, bubbles and giant parachute dance. Craft tables with themed crafts, giant colouring mural and playdoh table. Toddler play area with tents and tunnels and baby chillout space with mat and small ballpool. Licensed bar, free tattoo transfers and glowstick. Northumbria Students Union is a fantastic venue and everything is easily accessible, as it's all on one level. So, whether you want to throw shapes on the dance floor, get crafty or chill out in the baby chill area, you can still see the DJ at work!
Optional (but very much encouraged!) fancy dress: 'Once Upon A Time', think fairy tales and your favourite story book characters….. you decide…..
DJs will be announced in advance of each party via Twitter and Facebook but may be subject to unavoidable change.
Adults remain responsible for their children at all times.
For families with younger children (8s and under) though all ages are welcome as long as there are both adults and children in your party.
Adult only groups are not admitted . A max of 3 children per adult in a family. If attending as a large birthday party please ensure one adult to two children minimum. We will refuse entry to groups where there is inadequate supervision.
If there are more than 4 adults per child in your group please email infone@bigfishlittlefishevents.co.uk for pre-approval before buying tickets.
Tickets are non-refundable but can be transferred/sold on.
Each member of your group must have a ticket and pre-walking infants free (but ticketed). Will cost more on the door (if tickets available).
The event will be busy with hundreds of people attending.
The dancefloor is for adults and children to dance together.
For indoor events low lighting/club lighting rigs (no strobes) are used.
Music level is set and monitored throughout to abide by WHO guidelines. This is far lower than usual clubs levels but given the number of children attending there is a constant level of background noise during the event.
Please be aware that events are standing/dancing with limited seating.
Each event is stewarded and risk assessed in advance.
Buggies must be left in buggy park outside the event space and will not be allowed on the dance floor.
A licensed bar will be open during the event but no glass is permitted.
We may photograph or film small parts of the event and by entering you are giving your permission for these to be used for BFLF promotion purposes.
**PLEASE BE AWARE THAT THE PARKING AROUND THE VENUE IS PAY AND DISPLAY**