SYDNEY Jingle Bell Ball family rave ft. Nik Fish & Robbie Lowe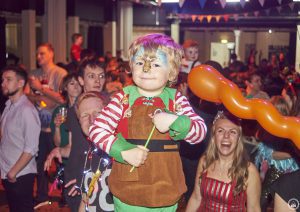 T'was the week before Christmas, and all through the house, not a creature was stirring, except for A BIG ROOM OF RAVERS!!
Big Fish Little Fish is back once again! And we're ready to get our festive on and celebrate the silly season with you!
We are extremely proud to bring you Aussie legends Djs NIK FISH & ROBBIE LOWE! 
Nik Fish's position as a leading Australian DJ is reinforced by his skill, determination, drive, passion and many years of hard work. His career began on radio in the early 90s as a presenter of his own dance music show called 'Musiquarium'. He was a major player in the original rave scene in the 90s playing alongside Carl Cox, The Prodigy and more!
Considered world class by fans and peers, Robbie Lowe maintains his presence amongst Australia's electronic music artists as one of the best. His sets speak for themselves, and as a DJ, Robbie has garnered praise of the highest form from some of the biggest names in the business. He has toured the world and warmed up for some of the world's most respected artists.
What can you expect?
Quality tunes: house/rave/trance/techno/classics.
Multi-sensory dancefloor, bubbles, glitter cannons, giant balloons and parachute dance finale.
Hula hooping display by Julsy Spirals: Hula Hoop & Pole Performance
Licensed bar, free transfers and glowsticks.
Lonely Planet Kids craft tables with giant mural and themed crafts.
Face painting stall.
Snacks & hot food available.
Toddler play area with tents and tunnels and baby chillout space with mats and baby activities.
Dressing up FESTIVE is optional but highly encouraged!
Parents remain responsible for their children at all times.
Who should come?
For families with younger children (8s and under) though all ages are welcome. Adults are not admitted unless accompanied by a child. A max of 3 children per adult. If there are more than 4 adults per child in your group please email carly@bigfishlittlefishevents.com for pre-approval before buying tickets.
Tickets
Tickets are non-refundable but can be transferred/sold on to waiting lists. Each member of your group must have a ticket including pre-walking infants who are free (but ticketed).
Yep, it's a rave 🙂
Please be aware that events are standing/dancing with some seating, club lighting rigs (no strobes) are used and events are busy with around 7-800 people at each party – which helps create the rave ambience. Each event is stewarded and risk assessed in advance. Volume is set at a safe level for children and carefully monitored throughout the event.
We may photograph or film small parts of the event and by entering you are giving your permission for these to be used for BFLF promotion purposes.
Prams and Changing
If you can manage it we suggest not bringing a pram. We recommend slings and carriers for comfort and for some heart to heart raving on the dance floor 🙂 We realise some people will need to bring prams and there is a Pram Park. Prams are not allowed upstairs or on the dance floor for safety reasons. Changing facilities will also be available.
Getting There
Where possible and certainly if you are coming from within a 10 kilometre radius of the Factory, we recommend that you arrive by public transport. The Newtown/Enmore Precinct are well served by public transport both trains and buses, late into the evening.
Merry Fishmas from all the fishes!!
See you on the dance floor!!
Visit https://www.facebook.com/bflfeventsoz/ to check out all things BFLF Oz!!