SUNDERLAND 10th Feb 'Old Skool and Neon' themed Family Rave – DJ Mudfoot Blaps and special guest Selector C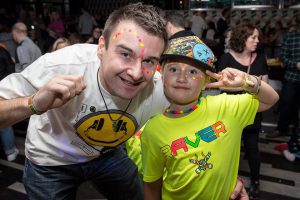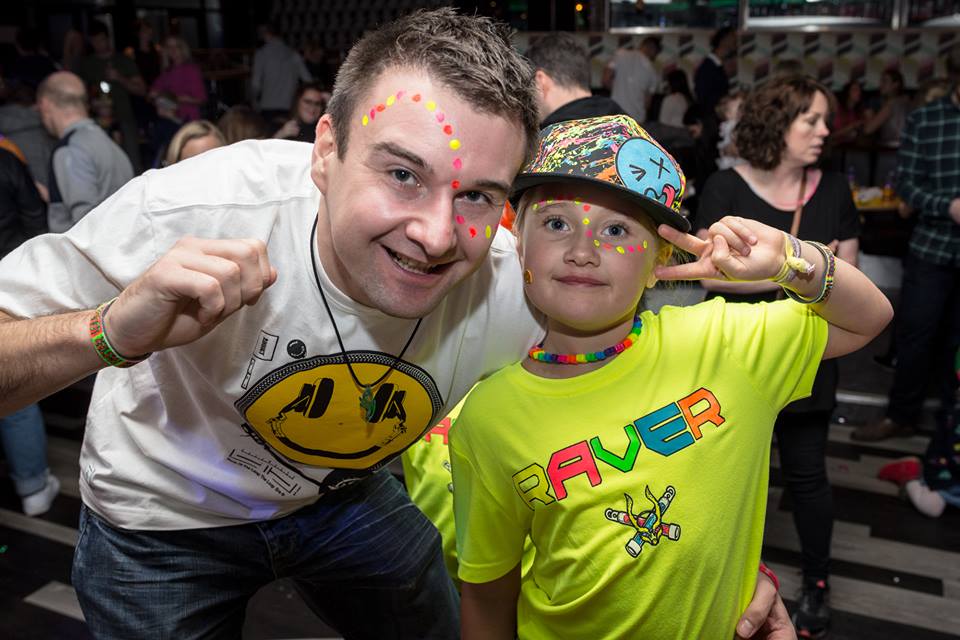 Big Fish Little Fish Award winning Family Rave return to Sunderland! Join us at Independent, 27-28 Holmeside, Sunderland, for our 'Old Skool and Neon' themed event. Join our award winning, critically acclaimed family fun event for the post-rave generation of parents – helping them to be responsibly irresponsible since 2013. Our raves are designed to be as much fun for the adults as they are the children, and are social, daft, anarchic and creative spaces for all the family to enjoy.
DJ Mudfoot Blaps will play on the multi-sensory dancefloor PLUS DJ Selector C. There is also glitter cannons, balloons, bubbles and giant parachute dance. Craft tables with themed crafts, giant colouring mural and playdoh table. Toddler play area with tents and tunnels and baby chillout space with mats and small ballpool. Licensed bar, free tattoo transfers and glowsticks.
Independent is a fantastic venue which is set over two floors. You can enjoying raving on the dancefloor with your children one minute, then pop upstairs to the chill out/play areas the next.
Optional (but very much encouraged!) fancy dress: Old Skool and Neon theme -bright colours, dungarees, glitter…….
For families with younger children (8's and under) though older siblings are welcome. Adults are not admitted unless accompanied by a child. Parents remain responsible for their children at all times. A max of 3 children per adult. A max of 4 adults per child (and such groups must be pre-approved by emailing infone@bigfishlittlefishevents.co.uk before buying tickets). Tickets are non-refundable but if anybody with tickets finds they cannot attend a sold-out event please email infone@bigfishlittlefishevents.co.uk and BFLF will attempt to put you in touch with people seeking to buy tickets.
Each member of your group must have a ticket – Adult £8.00, Child £6.00 and pre-walking infants free (but ticketed). More on the door (if available).
Important info:
– this is a standing/dancing event with limited seating. Please contact us if you have mobility issues
– please be prepared for the event to be busy – it is a rave!
– buggies are to be left in the buggy park and are NOT ALLOWED on the dancefloor
– the event is conducted indoors with club lighting (no strobes), when entering please allow a few minutes for your eyes to adjust. Please no running!
– By entering you accept that you/your children's image & video may be used in press and publicity for Big Fish Little Fish.