BFLF Reading present 'Space is the Place' with Chad Jackson (DMC World Champion) – Sun 7th October 2018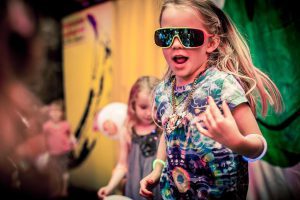 BFLF is thrilled to be coming back to the wonderful Hexagon in October with a SPACE IS THE PLACE themed rave with Chad Jackson (DMC World champion) and Bunf from Super Furry Animals DJ-ing. Grab your little cosmonauts and space cadets and come see what all the fuss is about!
Family fun for the post-rave generation of parents, helping parents be responsibly irresponsible since 2013!
Multi-sensory dancefloor with glitter cannons, dancefloor effects, giant balloons and parachute dances.
Child led craft station with sculpture making, giant colouring mural and playdoh table.
Play area with tents and tunnels, ball pools and soft play.
Licensed bar, free glowsticks and transfer tattoos. Face painting, photo booth and more!
Optional but encouraged fancy dress- Space is the place!
Parents to remain responsible for their children at all times.
Tickets are non refundable but if you can't make it every effort will be made to sell on your tickets to other interested parties.
No admittance without a child, and no more than four children per adult, or three adults per child.
By entering you accept that you or your child's image may be used in press or publicity for  BFLF.
Music is kept to WHO safe levels throughout.
Buggies are to be stored in the secure buggy park and will not be allowed on the dancefloor. We recommend a sling for smaller babies leaving you free to dance.
See you on the dancefloor Reading!
Tab, Bunf and the BFLF crew x