CARDIFF 'Space is the Place' family rave DJ SS and Bunf (Super Furry Animals) Sunday 8th April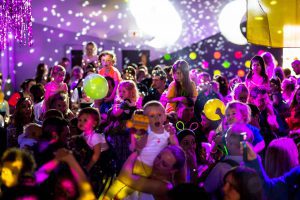 Drum and Bass legend DJ SS will be playing full on Drum and Bass, a first for BFLF Cymru. He will be supported by our resident DJ Bunf from Super Furry Animals who will be keeping it full on rave.
Expect some amazing music on the multi sensory dance floor with glitter cannons, bubbles, giant balloons and the legendary parachute dance. Themed craft room, baby chill out with tents and tunnels, soft play and ball pools, toddler chill out with houses and castles to play in, licensed bars and restaurants, face painting, cakes, photo booth, free transfer tattoos, glow sticks and balloon animals!
Optional (but encouraged) fancy dress : space is the place!
For families with younger children (0 to 8) although all ages are welcome.
Parents remain responsible for their children at all times. Please no running! Sound levels monitored to be safe for little ears. A max of three children per adult and four adults per child. By entering you accept that you or your child's image may be used in press or publicity for bflf. Buggies must be kept in the secure buggy park and will not be allowed on the dance floor. Please be prepared for the event to be busy it is a rave!
See you on the dance floor!