BFLF Pop up at Depot in the Castle – 2nd June 2018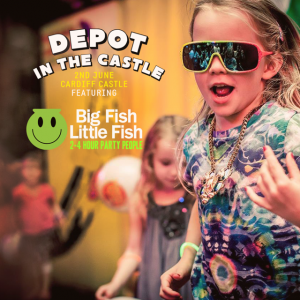 BFLF Pop-up at DEPOT IN THE CASTLE 2018!
GOOD NEWS!    WE HAVE BEEN MOVED UP TO THE MAIN STAGE AND WILL NOW BE AT THE EARLIER TIME OF 1:00 – 3:00PM
Big Fish Little Fish Cymru are thrilled to be playing the most exciting event this summer "DEPOT In The Castle" at Cardiff Castle on 2nd June.
Expect an amazing two-hour set by Bunf from the Super Furry Animals, plus lots of mayhem on the dancefloor with giant balloons, giant glitter cannons, bubbles and the legendary parachute dance. 
Expect free (yes "free"!), festival themed crafts, glow sticks and transfer tattoos for all our little ravers. 
See you on the dancefloor! 
NB
We love our family raves, the dancing and the glitter but safety always comes first at BFLF events. Parents remain responsible for their children at all times. 
Music is monitored by WHO guidelines to be safe for little ears. By entering you accept that you or your child's image may be used in press or publishing for BFLF or Depot In The Castle.