BFLF: Pasg Dawnstastig! / Egg-cellent Easter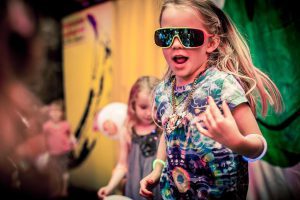 **Saesneg isod | English below**
Cyfle i ymuno gyda Big Fish Little Fish wrth iddynt gynnal parti Pasg enfawr yn Yr Egin! Hwyl di-baid i ddathlu'r wy-l.Dawnsiwch ar hyd llawr llawn swigod, gyda balŵns enfawr, o dan y canon conffeti a pheidiwch ag anghofio ymuno yn y ddawns barasiwt enwog!
Bydd un o anifeiliad mawr blewog criw y Super Furry Animals ar y deciau – dewch i ddawnsio, creu, chwerthin a bod ychydig bach yn wallgof!
Bydd 'stafell grefft a chyfle i liwio murlun anferth, ardal ymlacio a man arbennig ar gyfer babanod yn unig.Ffyn golau, anifeiliaid balŵn, tatŵs a mwy! Gwisg ffansi yn ddewisiol ond croeso mawr i chi ddod fel Cyw neu un o'i ffrindiau!
Rhieni / Gwarchodwyr sydd yn gyfrifol am y plant trwy gydol y digwyddiad.
Bydd lefelau sŵn yn cael eu monitro i sicrhau ein bod ni'n gofalu am glustiau bach.
Byddwch yn barod i bethau fod yn brysur – mae'n ddawns cofiwch!
**********
Big Fish Little Fish is launching at the egg-cellent Egin, Carmarthen! Party starting no messing fun!
Dance together across a floor filled with bubbles, giant balloons, giant confetti cannons and topped off with the legendary parachute dances! Expect a Super Furry Animal on the decks, come dance, craft, laugh and be daft!
Get crafty in the craft room, carried away on the giant colouring mural and enjoy the baby chill out and play areas.
Free Glowsticks, balloon animals, transfer tattoos and more!
Fancy dress optional but Easter Chicks like S4C's Cyw encouraged!
'Reliably excellent' The Guardian
'Magical, credible music' Time Out
2014 to 2018 winner of the best family event at the National Family Arts Festival awards.
Parents must remain responsible for their children at all times. Buggies will be stored in a secure, stewarded buggy park and will not be allowed on the dance floor. Sound levels monitored to be safe for even the smallest ears.
Please be prepared for the event to be busy-it is a rave!
Licensed bar. This event is aimed at children aged aged 0 to 8 years although all ages are welcome. There is a maximum of three children per adult and four adults per child. Please email Tabitha.bflf@gmail.com for approval if you wish to bring more adults per child.
See you on the dancefloor!